Here are some thumbnail images of outfits I've sewn. Click on the image if you want to view a larger version.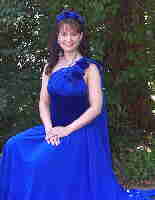 This is my Elf Princess. The gown was designed on my Duct Tape Form. It is made from Blue File and velvet fabric. The front bodice drape is gathered onto the boned midriff and extends over the left shoulder to form a fall down the back. To see a back shot go to my bio page.
| | |
| --- | --- |
| Here is a simple washable wool cloak. I've made hundreds of these and used to sell them at conventions. | This is basically the same cloak as above, but edged with fur and fully lined. It also has inner tailored pockets. |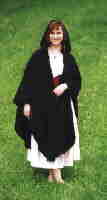 This is a nice Wrapping Cape. Very simple one-piece of wool that wraps in various ways.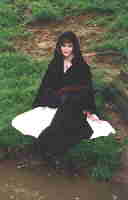 Here is the same Wrapping Cape, Embroidered with one-of-a-kind designs. I never make any 2 exactly alike.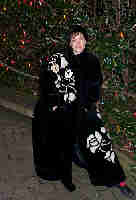 It's been some time since I made a faux fur coat, but I used to work in the faux fur often. This is the coat I made for the International Faux Fur Design Contest I won in 1997. It was also the inspiration for my first Threads article that ran in the January issue 1998.
Here is a Historical garment. I must confess that I did not do it totally as history would dictate. I did use modern sewing methods of construction, because I wanted a more durable garment. But the results ended up being quite impressive. The raw materials cost me $600 and there is about 800 hours of work in it, mostly hand sewing on the gold trim and beads.
This is my version of Cinderella. The skirt is made of upholstery Velvet and man, is it heavy! The satin top has rose decorations that are made by sewing individual petals of fabric. In the second picture, you can see the hand beaded design quite well.
---
---
Stitch Index | Old Basement | Small Appartment | Larger Appartment | New Basement | 2022 Basement
Work Pictures | Bio | Customer Pictures
---
This site created and maintained by: Leanna Studios
© Copyright 1994 by Leanna Studios. All Rights Reserved.