---
A Very Special Thanks!
To the brave souls who have sent pictures of their Doubles to share with all of us.
---
added May 2007
I loved making a duct tape double of my younger sister. How I often wanted to do something like this when we were younger (though for other reasons )

It was necessary in making a wedding dress for her since she lived two hours away and I could not wait for her to visit for fittings. I was able to get the bulk of the dress made with out her having to be there. I then used the duct tape double when I entered the gown into the local fair. It was better than seeing the gown lay flat on a table. Below is the finished dress though I do not have a photo of the dress on the double.

Carolyn
---
Geri
Just wanted to let you know I've completed my duct tape form and want to thank you for the wonderful instructions. I only used 2 rolls of tape and 3-4 bags of polyfiber fill. My husband did the wrapping, I did some of the stuffing and then he made the stand. I think its really going to help me with my fitting. I hadn't realized how "crooked" I am. Everytime I walk by my dummy I want to "fix" my right hip! Thanks again for the great instructions.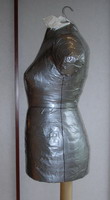 ---
Dianne
added January 2006
My duct tape story begins when my daughter announced her engagement and wedding plans. I had always dreamed of making my daughter's wedding dress and asked if she would what that and she did!

Well, with my daughter living 2 1/2 hours away, fittings would be difficult. So I started searching the internet for an adjustable dress form. They were very expensive and from what could see, they could not be adjusted for a prefect fit. I then starting searching for just a dress form and that's when I found your "Duct Tape Double". I have to admit that I did not believe duct tape could do this, but as I read all the stories, I decided to give it a try and downloaded your instructions.

I decided to first try it on a 36" tall doll, and to my surprise, it was not difficult and really worked!!! I told my daughter of this and we planned the "taping" for her next visit.

Two weeks later, we made her double, what we now call "the twin". Her finance took the pictures and it was actually fun to do. Here's some shots of the "taping" session:

I then made a stand using a 2x4 and placed "the twin" on the stand.

The form turned out to be an extremely valuable tool for the dress. My daughter lost some weight and I was able to just cut the sides open, take out some filling and resize it to her new measurements.

I could not have been happier with the results. Here's the finished product

And here's the most beautiful bride ever............ (I guess I could be a little prejudice on that though)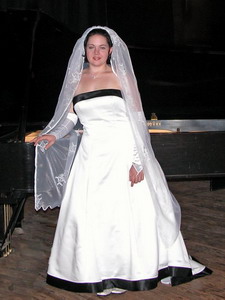 Thanks so much for your ingenuity in creating a prefect dress form. I will most definitely use it again, hopefully when I make my granddaughter's wedding dress (That's wishful thinking, they are not planning children for a 3-4 years).

Sincerely,
Dianne Meadows, Florida
Return to the table of contents.
---
Victoria
added February 2005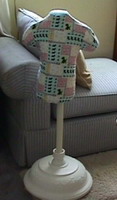 I used the freebie instructions, an umbrella stand, 1" PVC pipe, and flannel, it was so easy and fast, the duct tape really stays put and is strong, I covered the whole thing with flannel because it looks much better, the are no lose ends of duct tape for very delicate fabric to stick or entangle to, and the flannel gives just enough for it to be skin tight to the dummy.
Return to the table of contents.
---
Ambassor
added June 2003
It is my pleasure to introduce to you 'Manford', my male dress form. I made him using the instructions that I received from your website. You may post the pictures and the documentation of the page below to your site if you wish.
You saved a lot of money for me, and it works great! My story and pictures are on this page:
http://www.ambassor.com/tape/tape.htm
(My main trenchcoat area is on my site www.ambassor.com/main.htm under 'About Ambassor') if you're interested.
Questions or comments? please let me know :)
Here's a direct link to the Duct Tape pictures and story:
Return to the table of contents.
---
Andrea
added April 2002
With little kids...it has been hard to find a dress form that was still enough to pin
on....and not as expensive as the hi dollar forms for kids....but with 3 girls in
pageants....I had to figure out something! and quick!
Your form was perfect! I changed a little to fit my needs....like I needed pants and
cuffs....and I didn't have space to store them on a stand...so I changed a little of
your idea and look what we did!
I did one arm and the legs and the butt....added 2 hangers...... IT WORKED!!
We had fun! The kids thought it was hilarious! I wish I had taken more
pictures!....
And when I am done with it....and the kids are grown......I have them as little girls
all the time...
I can look back on it and remember every little dimple that they had how they
cocked that hip out....or even the little sway back of the " Little Girl" mamma
remembers....It will make you sad and happy all at the same time.....and as they
grow....DO IT AGAIN! Have fun....and have not just the form you need ....but a
mothers permanent memory of the cuddly giggly goofy child that you had....they
will remember too!
ALL MY THANKS AND MEMORIES WILL BE WITH YOU ALWAYS!
:)
Andrea Walker
Edom, Texas
Return to the table of contents.
---
Patt
added January 2002
I read the article in Threads and just had to have a DTD made of me. Called my daughter who called her sister who brought her children and her HUBBY! I think they were looking forward to "taping me up". Would have had my husband do it but was afraid he wouldn't stop at the neck………
We met at one daughters' house and started in. One daughter cutting and one taping. I wanted a full figure form that included the option to fit pants. All went well until we were ready to "cut me loose".Seems we had it so tight that there was just not enough room for the scissors. (wish I would have had time to find the surgical bandage scissors). My taping daughter, (everyone else had left by now), suggested I lay down on the floor. Well, not possible. I was wrapped tighter than a mummy and nothing but my knees would bend. Then she came up with the bright idea of tipping me over onto the breakfast bar. So onto the bar I was "tipped". That might have worked if either one of us could have stopped laughing long enough to try it out.
After a good deal of manipulating, she got me back into a standing position. We finally got it cut off and sat down for a long (comfortable) laugh. It is ready to be stuffed and looks great. I am trying to figure out how to stand or hang it so that I can use that lower half for pants.
I noticed that DTD forms that include the lower pant area are noticeably missing from your site? Thought you might like to add this one.Thank you for your wonderful idea. I am 145 pounds and a size 12 in purchased clothing. Never could get a pattern to fit properly using a regular dress form. I know I will have much more success in fitting using my DTD.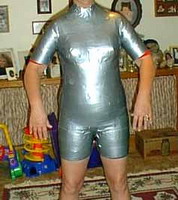 Return to the table of contents.
---
Dee
Hi! I made a duct tape double a few summers ago. I just wanted to share my successful story with you!
Being a college student and mother, I didn't have a huge budget for my wedding dress (or the wedding!), so I decided to make my own gown. I finally settled on RE-making a gown instead. I found a beautiful white prom dress (who wears white to the prom?) and set about sizing it down from a 10 to a 6. No easy feat! I didn't even know where to begin tailoring the princess seams, but I knew I had to try. I'd been eyeing those commercial adjustable dress forms for awhile, and having worked in a fabric store, I was kicking myself for not having ordered one sooner. The wedding was only about six weeks away and I didn't have time to order one. Yes, I always do things at the last minute.
Then, I found the directions for making a duct tape double on the web. LUCKY ME! I wasn't too sure this thing would work, but I had to try it. Six rolls of duct tape were purchased, and several old t-shirts were scrounged. I put on the T-shirts and told my daughter to start wrapping as I hopped up on the coffee table. Now, my 14 year old daughter hadn't wanted any part of this whole wedding thing until that point. When she realized that she was actually being asked to wrap her mother with duct tape, a smile crept across her face. She asked if her friend could come over and help. Like a lamb to slaughter, I agreed that having two people to wrap would certainly go much more quickly. The two of them laughed and giggled, taped and wrapped, then stood back and admired their handiwork.
Meanwhile, I was roasting inside the T-shirts and duct tape. I had chosen the hottest day (so far) of the summer to be wrapped. (The only day hotter than this would turn out to be our wedding day.) I'm surprised that duct tape wrapping hasn't become some hot spa trend, because I must have lost 10 pounds! My daughter finally succumbed to my pleas for help and she and her friend cut me out of my confines.
I searched the house for something to use as a stand. Nothing appropriate surfaced, so I was off to the home improvement center for ideas. I found a closet pole as a center support. I already had a wooden hanger to support the shoulders. I looked for a tree stand, but it was mid-summer and they wouldn't be found for another month or two. Finally, I spotted some empty wire spools in the electronics department. Evidently, they were being saved for an employee who used them as footstool bases. I begged the sales person to let me have just one. He wanted to know what I needed it for. As I was telling him about the wedding dress and the duct tape torture, he just smiled. He said, "I don't think they'll miss one." I ran to the plumbing department and found a PVC coupling to fit the center of the spool - I inserted the closet pole, and it was a perfect fit. I rushed home, cut the pole to the right length, and taped the coat hanger to the top of it. I finished the whole thing off by covering the spool with felt and closing off the neck and arm holes with felt also. The neck hole became a handy pincushion!
The wedding dress was a snap to tailor. I added lace appliques around the neckline and spliced a piece of hand made lace in the back to allow for a little more coverage. I not only had a beautiful original gown, but one which fit me perfectly. I was very proud to wear it on my wedding day. When we moved recently, my "body" was moved along with us. The movers got quite a chuckle out of it. She now stands in the corner of my sewing room, and I'm thinking of making another to keep her company - only this one will be a size bigger and have a very large tummy! (We're expecting a baby in December.)
Thanks for letting me share my story. I hope others try making a dress form this way - it's easy, inexpensive and yields great results. If two teenagers and a stressed out bride to be can do it, anybody can!
Dee Q.
Return to the table of contents.
---
Guy
added September 2000
Well I got the instructions from you a while ago, but I thought that since I'd put a few piccies on the web and since my DTD was in them I thought that I'd drop you a line and let you know.
http://www.wyrdrune.com/Costume/
Thanks for making such a neat idea easily accessible. Guy
You need to go see Guy's pictures. His Elizabethan noble's costume is awesome!
Return to the table of contents.
---
Anne, Shari and Tanya

added April 1, 1999

Here are Anne, Shari and Tanya. Three brave ladies who did their Doubles on the same day!
They didn't say, but I am assuming that the "Gent" in the background was their Wrapper.

Leah
---------------------------------------

Oops! That's no gent in the background - that's my fiancée Larry standing
behind me. He wrapped me, Anne's husband Willard wrapped her and Tanya's
friend and soon to be bridesmaid Ann wrapped her. It was quite an
afternoon.

Shari
Return to the table of contents.
---
Lisa
added March 25, 1999
My taping buddy ended up being my boyfriend. Since he's a carpenter, I knew he could grasp the concept of the double, having the right tools for the job is important to his trade also. Besides, when I showed him the prices of the dressforms, and the fact that they aren't even close to my shape, he knew this was a good idea. The only problem was that he is very strong, so he tended to wrap a bit too loosely, so he didn't hurt me. Except for her breasts being a bit more "perky" than mine, she's a good match, the poor thing.
The taping began with a trip to Home Depot. I got a cheaper brand of duct tape called Nashua Economy Grade, which is listed as .9 mil thick on the label. Fair warning: Home centers aren't always cheaper, Kmart had the 3M brand tape for 20 cents LESS than Home Depot. The Nashua worked well, but it was very sticky, and some of it ended up getting tossed because it got stuck to itself. I used 3-60 yd rolls, and 15-12 oz bags of stuffing (she's a big girl).
The wrapping took about 2 hours, including a break, and it got a bit uncomfortable toward the end. By the end of the taping session, my feet and
legs were killing me from standing in one spot for so long. I was soooo happy to get cut out of it.
I made a mistake with the hanger. I couldn't find any wooden ones, so I used a heavy plastic one I got with my coat, but it was wider than my
shoulders. Luckily, it was only about 1/4 inch on each side, so I fudged it in.
The stand is made with 1.5" PVC pipe. I cut it so it was my height WITH my shoes on. I generally wear boots with a 2" heel, and my dress shoes are 1.5-2", so I figured this would be better to judge the length of stuff.
For the base, I took a piece of 1x12 scrap wood and screwed a 2" galvanized flange to the center of it. Then I screwed a 2" male threaded adapter into the flange. I put a 2"-1.5" reducer in the adapter, and then the 1.5" pipe (which is what is in the picture). I am changing this part, because the reducer only holds onto the last inch of the pipe, which isn't very stable. I am gluing a 1.5" repair sleeve (without the ridge in the center) into a 2" connector, which is a bit bigger than the outside diameter of the pipe. This will allow the pipe to sit on the wood base, and have it's support about 4" up, which should make it more stable.
Although I was, shall we say shocked, by the appearance of her, my double gave me the kick in the butt that I needed. I knew I was a "full figured" gal, but I never realized how full a figure, and where it all was (I got a big butt). So, now that I am confirmed to lose the weight, I wrote the date on my double to track my progress. What better way to check your progress than to be able to compare your current body with what you looked like before the diet.
Later,
Lisa
Return to the table of contents.

---
Loris


added Feb. 4, 1998

I almost asked for a dress form for Christmas at $189. Lucky for me I held off, because the article in Threads came in January.

My husband and I bought the supplies (explaining to the male clerks why we needed duct tape and a piece of PVC pipe was amusing) and he did the wrapping on
Super Bowl Sunday. It took about 2 1/2 hours total and was complete except for the Christmas tree stand my stepdaughter used for a school fundraiser and never
got back. I am now using the double to alter and embellish a vest for a formal dinner in February.

I was so excited, I have now convinced 3 friends to make their own. One lady will have her daughter help her (they'll make one for each of them) and the other, her
granddaughter.

I have generated lots of laughs among my friends and co-workers when I describe the process of cutting off the form. We were in the living room and my 20-year
old son had walked into the kitchen, which is open to the living room. My DH had to run his left hand up my "crack" so he wouldn't cut me. It tickled and I laughed
of course and wiggled around. Then we realized I had on no underwear, at which point we had to exit to the bedroom.

Men can sometimes do good work, since some tend to be very particular. My husband is a breast man. Need I say more?

Anyway, thanks for a great web site. I'm having a ball with my double. (And it has made me jump a few times when I think it's someone standing there.)

Loris Bogue
---
Margie


added January 2000


I just finished with my 3rd dress and had a friend photograph them for me and thought I would send my thanks to you.

Being a beginning sewer I neglected to get that all important information off the back of the pattern. I selected a pattern for stretch fabric only when I had purchased non stretch fabric Well naturally it was a bit snug. Mom said put a panel in the back which I would not have been able to do with out finding your wonderful direction for the Duct Tape Double. As you can see I not only finished the Victorian dress with the panels to fit, but I've made a period dress and a Regency dress with my double to help me along. My husband does WWI re-enactment and wants a fitted dress uniform for the Bavarian Chevauleger unit he has created. We have been to period Balls and now that I have the proper dress I have to make something for him. Now if I can only get him to stand still long enough to wrap that tape around him.

I have told everyone who will listen about your website. I can't thank you enough for my double I love it and it looks just fine in the house since I have placed it on a wood hat rack that I took the top off of.
---
Lonnie & Kathleen

added January 2000

This is not my first experience with dress forms. I had a professional do a plaster of paris on me about six years ago. To my surprise, when Lonnie and I picked it up, it was an identical figure to mine. I had the form for about two months and the ribbon that was marking the lines of my figure began to buckle. The form was shrinking right before my eyes.
I called the professional that had made the dress form and she contacted the supply company. They informed her there was a problem with some of the product that was being used. She said she could fix it for me but I decided to get my money back because we were going to be moving to Florida in about two weeks and I did not want to take the chance of it shrinking at a later date. I paid $250.00 for this dress form which was too much money to have problems with it. Six years went by and I kept looking at the dress forms that you can buy in the stores. After seeing my double, I just was not satisfied with them. Then I happened to be surfing the sewing section on the web and came across the instructions to make my own. So, here I am, in person on Leanna's Duct Tape Double WebPages.
This is my Duct Tape Double Form. It turned out to be quite a success if I do say so myself. It only cost me about $50.00 to make. I cannot take the credit for this master piece though. Lonnie, my husband, did all the cutting and wrapping.
I saw the Duct Tape Dress Form instructions on the website of Duct Tape Doubles at Leanna Studios. I immediately started talking to Lonnie about doing one for me. His answer was definitely no and that I should try to find someone else to help me.
I set out on a mission to come up with a great pole to mount my duct tape form on. I searched a couple of stores and finally wound up at Wal-Mart and purchased on sale a torch lamp for $14.99. What a deal!! I purchased 8 rolls of gray duct tape, 5 rolls of white duct tape, 10 packages of 20 ounce polyfil fiber for stuffing the form. As you can see, I did not want to run out of any supplies. I used the white duct tape for my final wrapping.
I headed home with all my treasures feeling very confident that this was going to be a great work of art.
After arriving home, I anxiously had to figure out how to put the stand together. The website had several different methods for stands. I studied some of them and decided to use ideas from two different methods. I put my lamp pole together with the base attached to the bottom. I eliminated one of the sections of the pole to make it the right height. I particularly like the torch light lamp, because it has a weighted base and the duct tape form won't fall over as easily. Now, I needed to figure out how to attach a heavy duty suit coat hanger to the top of the pole. I cut a notch in the top of the pole, just deep enough for the hanger to sit in it. I then used gray duct tape to secure it so it would not wobble. Hey, it worked. So now we are ready for the taping session.
I had all the supplies and had finally convinced my husband it was going to be a piece of cake.
On Friday, I scrounged up two old T-shirts under the duct tape. The T-shirt for the top part was a form-fitting turtle neck so the duct tape could be wrapped up around the neck area also. I left a hole in the very top of the neck so I can put a pin cushion in the top part of the neck section. I cut the regular T-shirt in half, then sewed the bottom half of this shirt onto the turtle neck T-shirt making it into a very long shirt. I made sure the shirt was as snug fitting as possible so when the duct tape was wrapped around it, there wouldn't be many lumps and creases in it, except for the ones that belong to me. LOL!
As taping day rolled around, Lonnie was still complaining that he is not good at this sort of thing and that I was going to yell at him the whole time he was doing it. Now, may I ask all the women out there; "Since when do we yell at our husbands!?"
Well, I made a promise to him that if he would do it, and be serious about it,(Lonnie loves to joke and be a clown.) I would not be critical. He agreed to those terms.
We began gathering up our supplies and lining them up on the table in the order we would need them. We both looked at one another and with a sigh, Lonnie said, "I still don't think this is going to work!". I said, "Quit your fussin and let's get started!"
We read over the first couple of instructions. Lonnie began to wrap the duct tape as illustrated in the instructions and I am trying to be as nice and quiet as I possibly can. All of a sudden, I began to feel the duct tape getting tighter and tighter until I finally had to break my silence and tell Lonnie that it is too tight and is cutting off my circulation. Lonnie at this point does not know what to do to relieve my discomfort, so we both decide that all the tape has to be removed and start over. Luckily, I purchased more duct tape than I needed.
At this point, we both silently felt that this was going to be a complete disaster, but we trudged on. He began again wrapping the duct tape around me being careful not to get it too tight. It all started to fall into place and we both began to feel a bit more comfortable about the whole ordeal.
The first layer of duct tape has been successfully applied and now on to the second layer. The second layer went considerably smoother than the first. As time goes on, Lonnie became more confident in this project he so diligently refused to have any part of. It is now time to cut this masterpiece off of me.
Now, I have been really good up to this point about being too verbal about this whole process, but when it comes to cutting this thing off of me, I decided I better set some guidelines. Lonnie listened carefully to my instructions on how to accomplish this feat without drawing blood and then he proceeded to cut away at the back of the form. He cut at angles all the way up the back and neck. Lonnie helped me work my arms out of the duct tape because as you can see we taped down my arms about 5 or 6 inches.
What a relief to get out of this mummy suit. It was a little uncomfortable to stand as still as possible for about three hours, but it was all worth it. I completed the rest of the steps without my assistance help. He was tired, hungry and had just plain had enough of the duct tape double at this point.
I have to admit, if it weren't for Lonnie, this wonderful masterpiece would have never been created. Thank you dear! I am now trying to convince him to do the bottom half for me but I have not been very successful. LOL!!
Anyone that sews for themselves needs to make their own dress form. I say, "GO FOR IT!"
Lonnie and Kathleen lkh@strato.net
http://www.geocities.com/Heartland/Farm/5785
---
A Special Thanks-
To all my Internet friends who have given suggestions for this page. Whether it was an easier way to make the form you discovered while trying this method for yourself, or helping me phrase an instruction so it could be understood better, your help has been indispensable. If you have noticed your words added to this page, give yourself a big pat on the back.
---
Would you like to share your tale? Click on the comment link below.
---